General Informations
Welcome to the new website of the Ball of Industry and Technology!

This is where you can find all relevant and significant information about the social event of the Techniker-Cercle calendar.


News
This is where you can find the latest news regarding the Ball of Industry and Technology.


January 2017
At the Ball, Great Emphasis Is Put On Technology
As a pioneer in this field, and as the first ball to provide this kind of service to its guests, the Ball of Industry and Technology offered an app for iOS and Android.
In order to further strengthen its leading role in 2017, for the first time in the history of the Viennese ballroom dancing culture, indoor localisation based on Bluetooth technology will be possible this year. So-called iBeacons that allow an extensive coverage of the building of the Musikverein will be used for localisation, and thus will offer better orientation for the guests.
Get the app "TC Ball" on Apple AppStore and Google PlayStore and discover an exciting new technology with us first hand.
Stay on the ball with technology!


January 2017
Sold out!
3 days before the ball, the
129th Ball of Industry and Technology
is sold out
. An unfortunate situation for all those who still hoped for a ticket, but a very fortunate one for the Vienna University of Technology: the net proceeds of the ball (€
201.000
last year) support important projects in science, research and education. The amount and the details about the supported projects will be communicated later.
December 2016
4 New Projects
With 4 new projects, the Ball of Industry and Technology now supports 12 research projects at TU Wien.
>>
Paradigm Shift regarding Electricity Grids
>>
Levitated Rotors without Sensors
>>
Polymeric 3D Printing
>>
Injection Moulding Process for Aluminium Alloys
November 2016
New Members of the Ball Board of Directors
With the election of Mag. Dr. Dipl.-Ing. Alexander
Hartig
for President of the Techniker-Cercle and the appointment of Mag. Stefan
Ehrlich-Adam
as Ball Director, this year's Ball Board of Directors gained two new members. They support DI Dr. Sabine
Seidler
, Rector of TU Wien, Dr. Gabriele
Zuna-Kratky
, Director of the Vienna Museum of Technology, Dr. Theresa
Niss
of Young Industry Austria, DI Thomas
Hoppe
and Mag. Philipp
Rath
as well as
Honorary President
Architect Prof. Dipl.-Ing. Manfred
Nehrer
in their work for the Ball Board of Directors.
October 2016
Handing over of Donation
Manfred
Nehrer
, President of the TC handed over € 201,000 to Sabine
Seidler
, Rector of TU Wien, to support research and teaching at TU Wien.
December 2015
Roll of Honour at the TU Vienna
On December 1, the first Roll of Honour was unveiled in the main building at the TU Vienna to showcase major donors and sponsors of the TU Vienna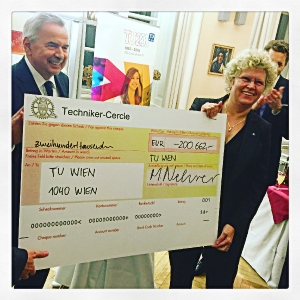 #tc2016
instagram.com/ball_der_industrie_und_technik
---
The TC Ball-App
Get the newest information regarding the ball in real time. Various functions like indoor navigation support your unique ball night.
Download:
Android (Google PlayStore)
iOS (Apple AppStore)